Refrigerated Storage Container Rentals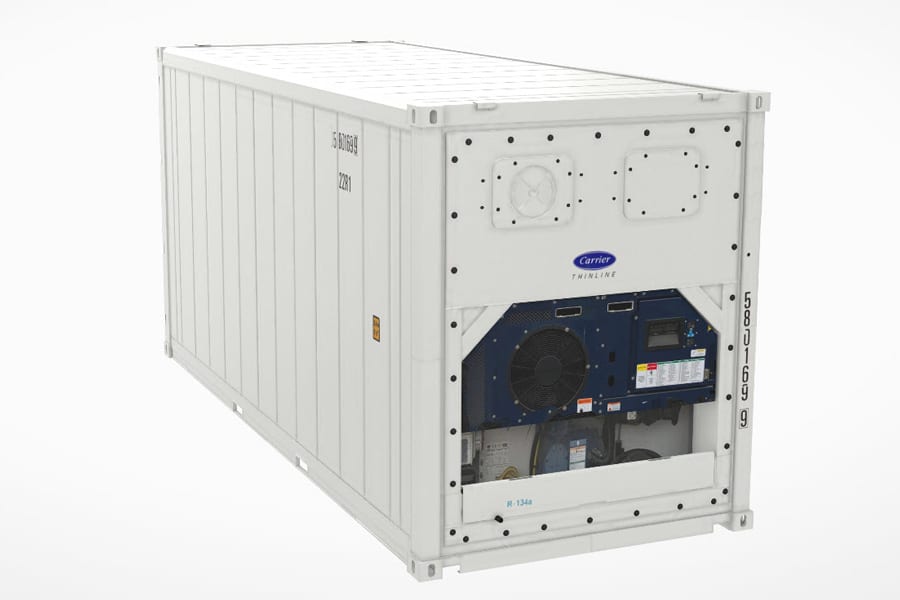 20' Reefer Rentals
Recently Updated Rental Fleet
40' Reefer Rentals
Recently Updated Rental Fleet
Reefer Container Dimensions
Have Questions About Reefer Specifications?
Contact one of our refrigerated container sales specialists for more information.
We Need Some Space for Ground-Level Delivery
Please make sure you have at least 60' of available space to delivery a 20' reefer container (40' for the fully extended truck, and 20' for the refrigerated container itself, plus space to maneuver). Please also ensure there is space for air to circulate around the reefer unit (at the end opposite the container doors).
Please make sure you have at least 100' of available space to delivery a 40' high cube reefer container (60' for the fully extended truck, and 40' for the refrigerated container itself, plus space to maneuver). Please also ensure there is space for air to circulate around the reefer unit (at the end opposite the container doors).
Things to Know Before You Buy or Rent a Refrigerated Storage Container:
Reefer Container Door Specifications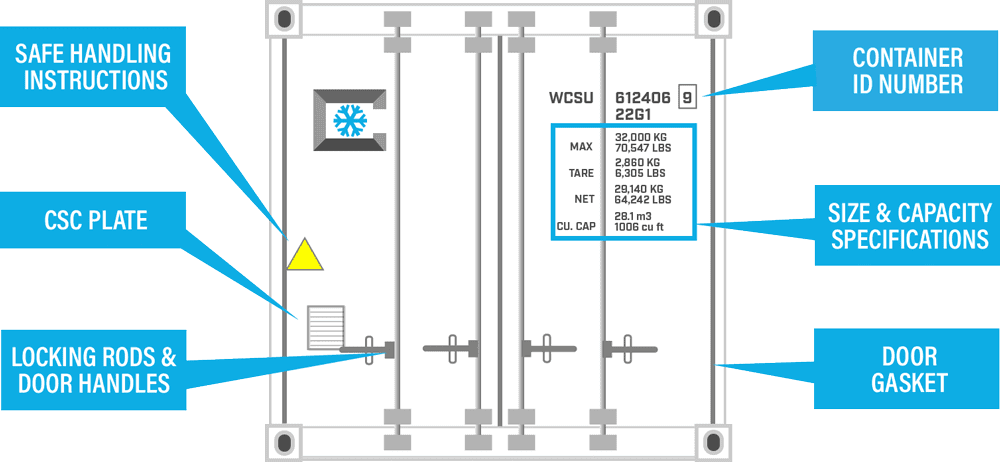 Safe Handling Instructions
A sticker or plate to identify such things as High Cube containers, etc. All 40' Reefer Containers are High Cubes, and will also have yellow decals at the top of the frame on each end, to make the extended height more noticeable. High Cube containers have an outside height of 9'6" (one foot taller than standard 20' reefer containers, which are 8'6" tall).
Locking Rods & Handles
Locking rods are bolted to the exterior of the shipping container cargo doors and frame, that seal the door tightly when twisted closed and clasped. A broken or bent locking rod can mean that a door won't seal properly.  For a reefer container to stay cool, it's important that the container doors seal properly so that cold air doesn't escape.
Container ID Number
Each shipping container has a unique identification number. The first three letters represent the container owner (registered with the Bureau International des Containers "BIC"), and those are followed by a "U" for dry containers, and then six more numerical digits for the unit number.  The 7th number is a "check digit" used by calculating the value of each letter and number in the ID. Check your check digit with BIC.
CSC Plate
The Convention for Safe Containers (CSC) Plate includes information on the date and location of manufacture, as well as other specifications.  Learn more about the Convention for Safe Containers on the International Maritime Organization's website. And make sure to purchases CSC survey if you need to use your shipping container for export.
Size & Capacity Specs
To ensure safe handling, and stacking on ships, containers should not be loaded heavier than the weight specifications listed on the door and CSC plate.  Please note, however, that local shipping weight regulations may be much lower than the maximum payload of the container. For instance, many shipping containers can handle over 65,000 lbs of cargo, but loading them that heavy would exceed FMCSA regulations.
Door Gasket
Each of the shipping container cargo doors is fully surrounded by a rubber gasket.  The gasket allows the steel doors to be shut tightly to prevent both weather getting into the the container. It also helps keep cargo from spilling out if the freight shifts or pallets fail during transport. Good gaskets are essential to a refrigerated cargo container being wind/water tight, as well to ensuring that cold air doesn't escape the reefer unit.
How Are Reefer Containers Different from Standard Shipping Containers: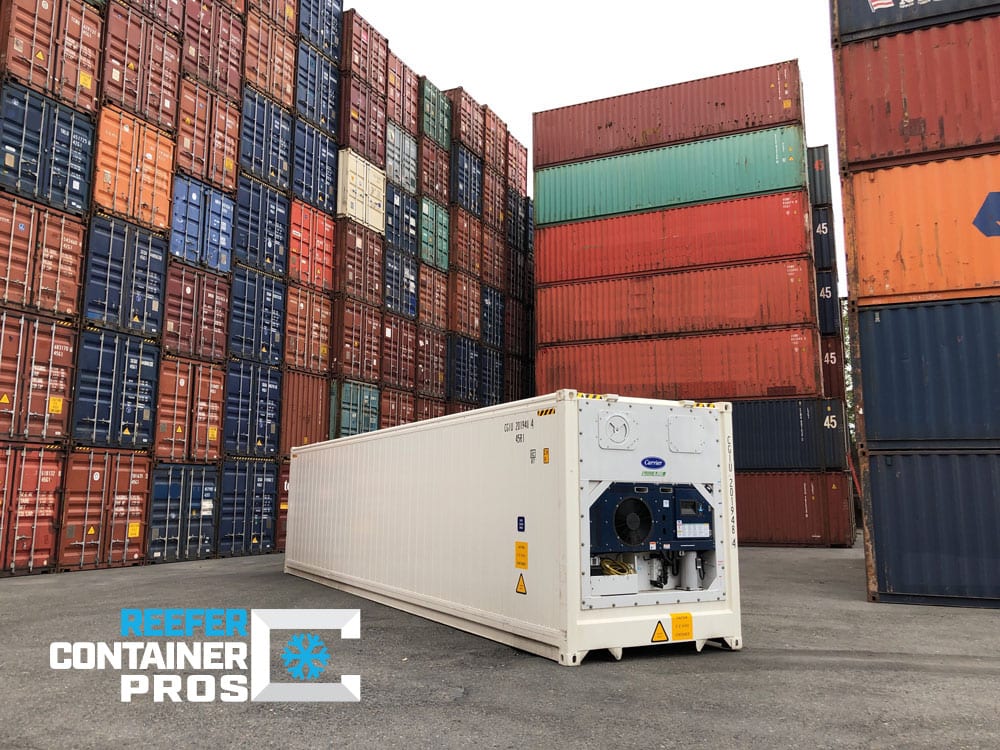 Reefer Containers Are Cooler Than Standard Containers
Reefer containers have a refrigeration unit on the bulkhead end of the container.  While it's not a blast freezer, most reefer units are capable of maintaining temperatures as low as -20F. Refrigerated shipping containers are also insulated, and usually painted a light color (like white or grey).
Refrigerated Containers Have Aluminum Floors
Refrigerated shipping containers, have the same basic outside dimensions as standard shipping containers. However, because all refrigerated containers are insulated, reefer containers have smooth sides. Reefers also have aluminum floors (unlike standard containers, with wood floors).
Used Refrigerated Shipping Container Sample Photos
One Trip (like new) Reefer Containers
Professionally Certified Used Reefer Containers
Compare Refrigerated Shipping Containers to Reefer Trailers for Cold Storage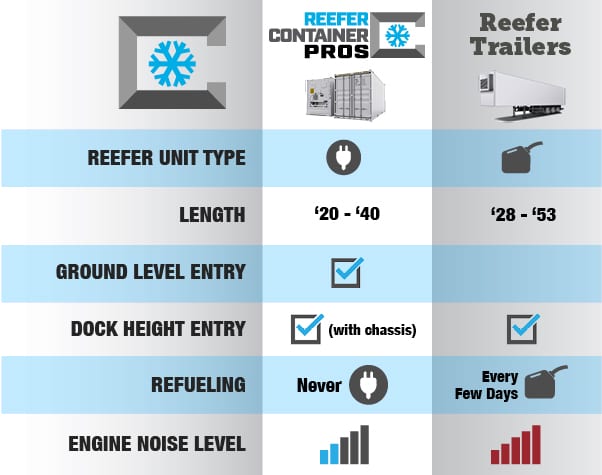 Are Reefer Trailers or Refrigerated Containers Better for Cold Storage?
Refrigerated shipping containers are a little smaller than reefer trailers, which usually come in 48' and 53' lengths (as well as some other smaller sizes), however reefer containers have a lot to offer.  Whether you buy or rent, refrigerate shipping containers offer a low maintenance cold storage solution.  As long as you've got the appropriate electrical hookups, it's almost as easy as plug and play.
Reefer containers also offer ground level entry (something you won't get with a refrigerated semi-trailer). And if you need dock-height storage, we can help you find a chassis trailer to rent or buy.  You'll also notice a noise difference, because refrigerated shipping containers have electric reefer units. Reefer trailers run on diesel fuel, which means you're always one overlooked refueling from your cold storage no longer being cold.
Refrigerated Storage Container Uses
Make Sure You're Ready for Your Refrigerated Container:
Reefer containers are more complicated than standard shipping containers. Make sure you've got the proper electrical setup, understand how to set the temperature controls, and are ready for your reefer container. For more information (including manufacturer manuals), check out the More Info section of this website.
Reefer Container Pros: Coming Soon
Nationwide reefer container sales and rentals, coming soon...